Why United Defense Tactical?
Change your life and the lives of your members.
Fifteen years ago, United Defense Tactical founder and chief instructor Wes Fox realized a need that wasn't being fulfilled anywhere else. UDT is built on the belief that training in a static environment will not prepare you for danger in a dynamic one.
UDT's proprietary curriculum prepares civilians to react confidently in real-world scenarios where lives are at stake. The program is designed for people of any skill level, fostering camaraderie and drive through self-defense and simulator-based firearms training courses.
If you've got the drive to be a franchisee, then we've got the tools to help you take charge. When you buy a franchise you are investing in an exciting and unique business opportunity, driven by quality and necessity.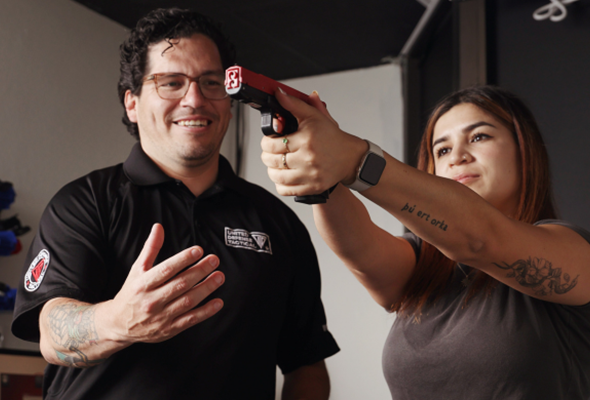 Shooting isn't just the mechanics.
People are not visually or mentally prepared to act when it matters most. We train you to become a dynamic, thinking shooter.
—Wes Fox, Founder & Chief instructor
Join the team and see the benefits
Capitalize on the immediate need for gun safety and training
Smart Investment
Simple and recurring revenue model. We attract an affluent membership base willing to pay for top-tier services, enabling you to earn more with fewer members.
First-Mover Advantage
With a proven concept in our flagship facility, UDT is forging a path in an underserved market. There is a need for more comprehensive firearms training and we provide it.
Expert Support
We'll guide you through the entire startup process from training instructors and sales staff to building out the facility. We'll provide one-on-one support as your business grows.
What to Expect From Our Franchise Team
Our group of like-minded professionals will support you and your business as we work together to transform firearms training in the U.S.
Real Estate
Our dedicated staff and real estate partners will help you in the site selection and lease negotiation to find the ideal site for your UDT location.
Construction
We'll guide you through the entire build-out process from design and layout all the way through construction and installation.
Sales & Operations
You'll receive comprehensive sales and operations training to kick off your endeavor. Our experienced team will offer step-by-step guidance from pre-sale to the grand opening of your location, and you'll have access to ongoing training and support.
Recruitment
Our team will provide assistance and guidance on recruiting and hiring the most qualified managers, sales team & instructors.
Training
We believe extensive training and support are critical for your success. Our training consists of a comprehensive 5-day training course along with ongoing and interactive sales, operations, marketing, and recruitment training.
Marketing
Marketing your location begins before you sign your lease. We provide in-depth marketing training and support, with a full pre-sale and grand opening marketing strategy, through the ongoing operations of your UDT location.
Ready to take the next step?
Get in Touch
Introduce yourself by filling out the interest
form here on our website.
Start qualification and application processes
The minimum financial requirement to own a UDT is $100,000 in liquid capital and $500,000 net worth (or access to investors or partners). Let's make sure you are set up for success.
Chat with our leadership team
Find out about financing, available territories,
and more.
Visit the UDT flagship facility
Spend time with our team in California
and learn about the business.
Sign franchise agreement
You did it! Welcome to the UDT family.
This website and the franchise sales information on this site do not constitute an offer to sell a franchise. The offer of a franchise can only be made through the delivery of a franchise disclosure document. Certain states require that we register the franchise disclosure document in those states. The communications on this website are not directed by us to the residents of any of those states. Moreover, we will not offer or sell franchises in those states until we have registered the franchise (or obtained an applicable exemption from registration) and delivered the franchise disclosure document to the prospective franchisee in compliance with applicable law.
Currently not available in:  HI, IL, IN, MD, MN, MI, NC, ND, NY, RI, SD, VA, WA or WI.